Monday, Monday....
Today's Monday....
It was day #5 of work for me. Today is my Friday. Wooohoooo.
I normally only work 3 days a week, so 5 in a row was not the norm for me.
I'm ready to have a day off!!!!
So, obviously, if you do the math, I worked on Saturday.
After work, Dad & Allen came over, and we got take-out pizza & had a good ol' time. You know, with the bomb dropping and all...
Gage had fun playing tee-ball...
And...if you look in the upper right hand corner of the above photo---you'll see a brown strip in the grass. Um....about that.... well, that's what happens when you put the slip-n-slide down on your Hubby's St.Augustine, and don't move it for a week...or more. Yeah, I got in trouble.... whoops. won't do that again!
Hubby had a hose sprinkler going in the front... and a neighbors dog had a BLAST playing with it. It seriously drove Hubby nuts, but it was sooooo funny to watch!
I had a house full of silly boys while we ate pizza!
It was a pretty fun night.
After that, Dad & Allen went to Pop & Gammy's to spend the night.
Gage ended up in our bed, and I woke up Sunday morning with Gage literally on top of me! I was asleep on my tummy, and he was asleep on my back. I tried to carefully turn left & right just to see him curled up on my back, but I couldn't see it. Oh well...
Then Sunday morning, it was up & back to work.
Sunday evening, Gage was BEGGING to go to the Mother In Law's, and she said it was fine, so I took him out there to spend the night. He of course had a blast and came home this afternoon after work.
So, last night, we watched SHUTTER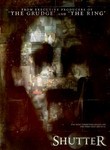 It was okay. Not great, but okay.
Then...today, I worked.
Came home, cleaned a bit. Gage goes to bed in about 30 minutes.
I'm ready to be off the next 2 days!