Biopsy Results...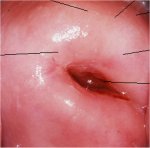 Look, it's a cervix!
OB just called.
No cancer at this time. Wooohoooo!
So, we go for another Pap in June.
OB says that if things were to develop into cancer, it's a very slow progression.
Says that there is no need at this time for any surgical removal of any of my cervix.
Woohooo.
:)