Some things I miss from the 80s...
Punky Brewster coming on in the afternoon after school...
"I've got...Punky Power!"
Eighties music...oh, too many songs to name.
But might I just mention....Walk Like An Egyptian?? Who doesn't MISS that?
Barbie...
Ok...not that Barbie doesn't exist today...it's just that, my 80s were filled with Barbie dolls, Barbie coloring books, Barbie shoes, etc. Speaking of Barbie shoes....why is it that I could always & forever only find ONE? ONE. It was seriously like a constant game of MEMORY [remember that game??] just to find two matching Barbie shoes...
The Sylvanian Family:
Okay, so this was a toy that apparently most little girls didn't have...not that I'm trying to be all hoity-toity snobby. I think most little girls didn't have it b/c it wasn't that popular. Anyway...I had this little Sylvanian dollhouse & two families: the bear family...and some other family that looked like moles, or rats or something. But...in a cute, sylvanian way.
The Lite Brite.
Loved it. Always lost the little pegs.
Garbage Pail Kids.
OMG! I can remember riding my bike to a nearby store with my sister to buy these.
I thought they were sooooooooo cool.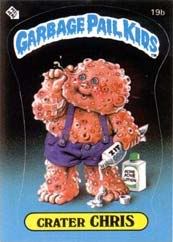 PacMan....yup. That rocked.
Which....really kind of leads me to this: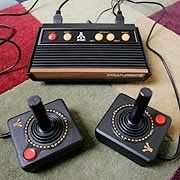 Atari.
Yeah...we had one. I sucked at it, but whatever. Had that until the Nintendo came out.
Something I DON'T MISS from the 80s:
Jelly shoes.
Okay...that's it for my randmom little trip down memory lane....