EMO...not to be confused with Elmo.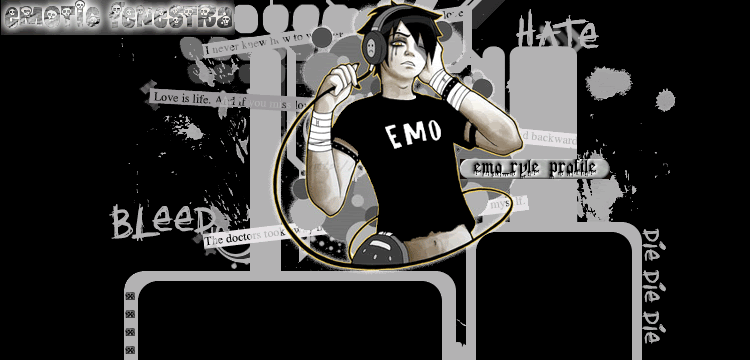 So...there's this....culture...subculture...of kids that call themselves "EMO". It's short for "Emotionally Disturbed"...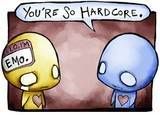 So, the "EMO" subculture of today is different than the "EMO" related punk style of yesteryear (from what I've read...), but it's kind of all followed a general trend to deviate from the norm, but LOOK just like everyone else in your group. Stand out, but fit right in, if you know what I mean.
So What Is Emo?
Some Basic Truths About the Emerging Emo Sub-Culture:
Emo is a state of mind and distinct lifestyle choice which involves one or more of the following dimensions in varying degrees and proportions.
1.Emo is a genre of music that's suffering character dilution and becoming harder to define
2.Emo is fashion statement
3.Emo is a form of identity that influences one's geopolitical views and belief system
4.Emo "kids" are characteristically "hetero-flexible", "bi-sexual" and open to experimentation in their sexual dealings
So, current EMO trends that you may see (my opinions of course, based on what I've read & seen so far):
* cutting.
* a bunch of talk about crying blood.
* b*tching and moaning about how tough & hard their lives are.
* everything is soooooooooo tragic, and they're just heart broken.
* love of drama, for drama & tragedy sake.
* lots of repeated suicide attempts, or gestures; lots of talk about suicide.
For fashion trends...
They've got black hair(usually)...jagged hair cuts with the side-swept bangs that constantly require tossing out of the eyes if the EMO individual wants to actually see...but of course, they don't b/c they want the hair to block their eyes, and therefore they can be more withdrawn & tragic & turned into themselves.
Makeup. Both boys & girls. Particularly around the eyes. (which, is bizarro, b/c the shaggy bangs usually hang down over the eyes...) hmmm....
Showing of scars.
Many cutters try to hide their scars & do whatever it takes to hide them. Not all of the EMOs. for them, it's kind of like a sticker nametag that says, "Hello, My Name Is EMO."
A book about "EMO" for those that want more info about this group...
And of course...there are the anti-EMO sentiments, that just make fun of them & their "SO MISUNDERSTOOD" mentality: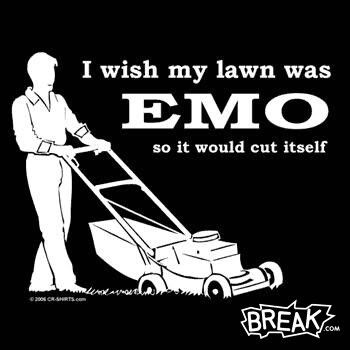 Now...do I think this is stupid? Yes.
But...as a parent, I think it is disturbing. Sure, every teen feels misunderstood & cannot fathom that THEIR parent could POSSIBLY know what they are experiencing. Sure there really are tragic stories out there in the world. Lord knows that I know that! But....any little trend that involves self-mutilation is NOT okay.
I would TOTALLY freak out if Gage were involved in this.
You want to wear your hair all like that--fine. I think you look like an idiot, but go ahead.
You want to wear make-up like a girl & be bi-sexual, bi-curious, gender-ambiguous, whatever. Hey--be safe about it. It's going to result in heartache I'm sure, whether it's from discrimination, or being judged & harrassed, or feelings of guilt or shame that may result... It's not the life I would choose for my child, but if you need to test the water...I will absolutely not judge for sexual identity /experimentation /preference, whatever. I just won't. But---no matter what, be safe about it!
BUT...cutting? NOT OKAY.
B*tching & moaning about how tragic life is....NOT okay. Why? Because (and I'm basing this on Gage's life so far...& then relating it to him being 16 & caught up in the EMO-thing...) well, Gage's life is not tragic, has not been tragic, and I'd be PERSONALLY offended by that crap.
Anyway...that's on my mind today.
The EMO subculture.
The cutting...NOT okay.
NOT cool.
And when they grow out of this EMO thing, (if they don't kill their tragic little selves first), then they will be sporting scars on their wrists forever. That'll be great to explain to their children...and grandchildren...