I did it.
Thanks, Mojavi, for the idea, and encouragement!
I did it.
I made my own laundry detergent, and IT ROCKS!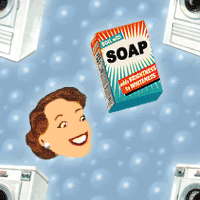 Okay, I did this mainly because it seemed interesting, and I just wanted to see if I could do it.... and I did.
Of course, Hubby pointed out that "there are companies out there that will make this FOR YOU." Yes, dear, I know. I just want to try it! So, he was supportive of my experiment....
Mojavi recently posted about making her own laundry detergent & posted the recipe.
Well, for the life of me, I could not find "Washing Powder" or "Washing Soda", so I googled for a recipe that calls for baking soda.
So.....
Here's the recipe I used:
1 bar soap - grated (I used Fels-Naptha)
2 gallons hot water
2 cups baking soda
Melt grated soap in a saucepan with just enough water to cover the soap. Cook on medium-low heat, stirring frequently until soap is melted.
In a large pail, pour 2 gallons of hot water. Add melted soap & stir well.
Add the baking soda, again stirring well.
For laundry use: use 1/2 cup per full load, and 1 cup per each "very soiled" load.
So.....if you average $11-$15 per month in laundry detergent...this is waaaaay cheaper! For total cost investment on this little project---Four dollars & four cents...or 8 cents....I forget. But, I've got lots of baking soda leftover. For my next batch, I will only need to buy another bar of Fels Naptha soap, & that cost $1.29 a bar. The recipe said that you could use any other mild soap like Ivory.
:)