Blogging from the Hospital....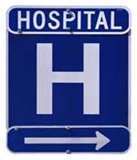 Well...I had no more than hit "submit post" on that last medical update before the Hubby came out of the bathroom from vomiting blood.
Not good.
He threw up several times before we made it out of the house & into the ER nearby.
Got him here to the hospital. He's got a GI Bleed. He's failed his "TILT" tests, meaning that every time he stands up, his heart rate is going down & so is his blood pressure. So far, his labs are coming back within normal limits, but they will be redrawn around 5am. The doctors said that it is normal for the first labs drawn to be completely normal, and then go down after a few hours from the onset of symptoms. Hmmm...
He's got an NG tube (up his nose, down his throat, into his stomach) to empty the blood from his stomach. He's been given anti-nausea meds, and a bit for pain, but they had to hold off on the pain meds for a while because his blood pressure was dropping pretty low. Now, they've given him fluids & his pressure is back up, but on the lower side of normal. The admitting doctor says that it will be okay to give him more for pain finally....
So, we're admitted, but waiting on our bed assignment. They'll be doing the esophagogastroduodenoscopy (a scope to look at his esophagus, stomach, & duodenum) "first thing in the morning". The doctor is not sure of the exact time yet, as tomorrow is Saturday....
I'll keep you all posted.
Thanks for all of the well wishes & prayers...