Itty Bitty Polka-Dotted-Baby.
So......
My baby has a raging case of the polka-dots: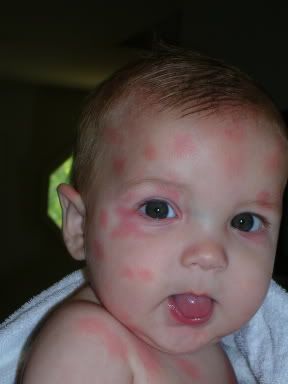 *******please note, the above photo was taken from photobucket, and is not my child. However, from what I've heard today----the polka dots are very much the same.
Story: I put jammies on Gage last night. He goes to bed.
Let me back up.......for the past 3 days, Gage has hardly eaten ANYTHING at all. We're talking a few tastes of "chockit puddin'" & about a tablespoon of ketchup. In 3 days. But---he's been chewing a lot on toys & sippy nipples....and he's not dehydrated (normal urine color & smell, voids frequently, drinks a ton, etc.) He's just been refusing solids. I've wasted a ton of food over the past 3 days just trying to get him to eat something....anything! Hell, I gave him M&Ms last night that are still in the back of one of his little trucks in the living room. The child would not eat CANDY. But, I chalked it up to teething.
Last night---put his jammies on, diaper change, went to bed.
Around 2am, he woke up. I figured he was hungry b/c he hadn't been eating much solid food. Gave him a sippy of warm milk with rice cereal. Rocked in his nursery. Changed his diaper. Back into the crib. About 30 minutes later, he was crying again. He wanted more milk & wanted to go to the couch. So, my husband got up with him---met his needs & wants, and they relocated to the couch. Damon said that he fell asleep about 5 minutes after they got to the couch. This morning, he was back up at 5:30....acting fine. I did NOT notice polka-dots all over him.
I had to work this am, so I took Gage to the MIL's (mother in law's). Before I even got out of the door, he said, "bottle miiiiilk. Gage go night-night agin. Mommy baby bed." He laid it all out there for me. MIL got him some milk, I took his shoes off, and laid him in the crib at her house. He wanted to go back to sleep.
A little while later, he was up & they had to run to the store. While at the store, Linda noticed some bumps behind his ears....then around his belly, and within minutes his legs had bumps on them & so they left the store. She called me @ work, but I wasn't at my desk. She didn't page me. She called my husband. He called the pediatrician's office....and here's where it gets a little f*cked up in my opinion.
SOMEONE at the Pedi office told my family that it could be: (1) chicken pox (2) measles or (3) hives.
Regardless of which 3, they did NOT want us to bring Gage to the office for fear of spreading the illness.
Mmmmkay. I get that. I don't want to get a bunch of kids sick either. But....um, AREN'T YOU A FUCKING DOCTOR'S OFFICE?
Anyway....at THAT time they instructed my MIL to give him liquid Benadryl every 6 hours. So she did. She was also instructed to "watch his breathing, to make sure his airway doesn't close from swelling". MMMMkay, again.
So........I call the Pediatrician's office.
Let me begin by saying that a physician's office is only as good as their receptionist.
I left a message to speak with the nurse. She called back 24 minutes later. (that's fine, she had an hour to get back with me....) She & I had a pretty lengthy discussion about the following:
1) What MAY be going on with my child & what leads her to suspect &/or dismiss each of the 3 that she listed (chicken pox, measles, & hives).
2) Possible causes of the hives, which is what Gage probably has....
....and, of course those above were not immediately discussed. We got to those topics after we cleared up the following:
* What role I expect that Pediatrician's office to play in the life of Baby Gage. Not only are they there to maintain his health & wellness, but when he is sick---they damn well better treat him.
* In the future, when they tell me that they do not want my child at their office, they need to make other arrangements to see him. If that means they send someone for a housecall, so be it. If they are not comfortable with that, then I'll drive up. I'll be right outside & someone can cruise on out & check out my baby's spots. This mess about Gage being "too contagious"....I understand that they don't want it to spread---and I don't either. But I also don't want to treat my child for something that he doesn't have, or NOT treat something that he has b/c we all had some type of miscommunication while the pediatrician practices medicine over the phone.
* I am still a NEW MOM. Maybe I've had this little guy for 2 years now, but it does NOT mean that I am a pro by any stretch of the imagination. Every milestone we have, every phase we enter is new to me. I am still learning. I know that perhaps they see Moms & Dads all day long...and they treat kids all day long. What may be common place for them, is not necessarily common place for me. I expect them to be respectful of that, and patient with me.
I assure you guys----I was LIVID. I felt like my baby was sick,and they knew, but were doing nothing about it. Part of it was the frustration of the "watch & wait"...but that was not even originally discussed. It was not until I spoke with the nurse later & cleared some things up & voiced my expectations that she finally went into details about this diagnosis, and that diagnosis, and why we have to wait, etc.
So....if pustules (gee, what a yucky sounding word) form this afternoon, it is probably chicken pox. If they do not, it is probably hives. Based on the description by my MIL, they sound like hives to me (but hey, I'm no doctor!), and they sound like hives to the nurse.
Hives: not contagious. Most likely caused by an allergy to something Gage recently encountered. She asked about dietary changes. I reiterated that he has been refusing solids for a couple of days. Drinks: he drank Minute Maid Orange-ade yesterday evening. That's new for him. Topical products that are relatively new for him: switched detergents over the weekend & let him have his new Bubble Bath. (His eczema has been gone for months now, so I thought that perhaps it would be okay to try the new detergent & bubble bath....we were using ALL Free & Clear for detergent, but I bought some FABULOUS smelling Tide Lemon Verbena super concentrated stuff....and since he wanted a bubble bath, I went ahead and gave him the bottle of Mr.Bubble we'd purchased....so that was relatively new for him too).
The nurse said that we could look & look trying to figure it out, and still maybe never will know.
So....in the end, they've agreed to see him this afternoon, evening, or first thing tomorrow morning if I feel that it is necessary.
We'll see.
I'll keep you all posted on my polk-dotted baby.
Labels: Gage