Oh.My....Goodness.
Movie Review......
Gone Baby Gone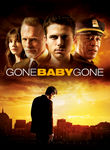 This movie...
This movie was good....
And, hard to watch.
I cried throughout the movie...just at various times. It was very emotional & thought-provoking for me. It just really makes you ask yourself, "what would I do? what could I live with? how would I decipher the less of two evils?"
Anyway...that's my movie review.
Labels: Movies