That's IT !!!
Okay....have I mentioned that we have like 13 pecan trees at our house?
I come out this morning onto the back patio....I have my laptop....gonna read up on some blogs...check my email....feed the cat...sippin' on some coffee.
Well, it's a covered patio, but not screened in or anything....it's covered to provide shade.
These damn squirrels are up there knocking down pecans, and when they hit the damn roof of the patio, you could swear that someone was shooting at you at close range.
I just jumped about a thousand miles in the air & spilled coffee on my freakin' flip flops...so now they are going to dry all sticky...
F'in squirrels.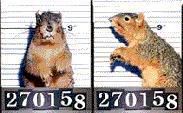 So did anyone notice anything about this post?
How about the fact that I didn't mention my son (clearly, until now)???
Well...he's still asleep!
Oh my gosh---it's the gift of time. Free time. Me time. Lazy time. I'm lovin' it. He woke up at 5:30, went back to sleep, and it's 8:18 am....he's still asleep.
:)
Labels: House