Serve It Up!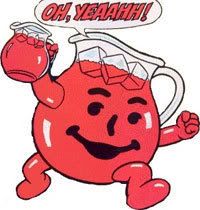 So, last night, Gage wanted some Kool Aid.
He chose grape.
HEEEEEEEEE wanted to stir it.
So, he pulled his chair up to the cabinet. I mixed the powder w/ the sugar & water. I handed him a big spoon to stir.
In the background, dinner was being made...
Turn my back for a second, and PLOP, in goes a scoop of butter. Butter IN the Kool Aid. EEEEWWWW!
Turn by back for another second---in goes a handful of M&Ms.
EEEEEWWWWW.
And the final ingredient: One Baby Gage sneeze sprinkled over the top.
So, Baby Gage's Recipe for Kool Aid:
1 packet kool aid
1 c. sugar
Several cups water
1 scoop butter
1 handful M&Ms
1 sneeze to garnish
At the point of the sneeze---Hubby & I decided that we just don't drink enough water, and clearly, we'd need to drink water with our dinner.
But Gage---no, he had to have some Kool aid.
....and he drank it.
EEEEEEWWWWWWWWWWWWWWWW!
Labels: Gage